Paschal High School
Class Of 1968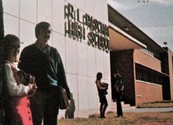 In Memory
Diana Henry (Campbell)
Birth:
May 18, 1950
Fort Wayne
Allen County
Indiana, USA
Death:
Jan. 22, 2014
Shawnee
Pottawatomie County
Oklahoma, USA

Shawnee resident, Diana Louise Campbell, 63, passed away Wednesday, January 22, 2014 in Shawnee.

Diana Louise Campbell was born May 18, 1950 in Fort Wayne, Indiana the daughter of Leonard Robert Henry and Mildred E. (Heine) Henry. She graduated from Pascal High School in Fort Worth, TX and received an associated degree from Tarrant County College. On June 17, 1973 she married John Charles Campbell. She worked for many years as an accountant for the Sac and Fox Nation, and later for the State of Oklahoma where she retired. She was affiliated with the Lutheran Church. Her enjoyments included scuba diving, Explorer Scouts, was an avid reader, and dog lover.

She was preceded in death by her grandparents.