Paschal High School
Class Of 1968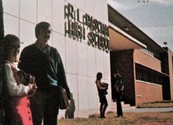 In Memory
Ray Ruscoe, Jr.
Ray passed away in February 2009 per BeBe Hinojosa Beheler. He was her former brother-in-law.
The Bolivar Commercial, Monday, February 9, 2009: Ray Morgan Ruscoe Jr., 58, of Arlington, Texas, formerly of Cleveland, died Thursday, Feb. 5, 2009, in Bonham, Texas.
A graveside service will be at 11 a.m. Tuesday at New Cleveland Cemetery with the Rev. Billy Owen officiating. Ray Funeral Home is in charge of arrangements.

He was born on July 25, 1950, in Fukuoka, Japan, to Ray Morgan Ruscoe Sr. and Ann Bishop Ruscoe.

His pleasures were golfing and fishing. A graduate of Texas Weslyan College in Forth Worth, Texas, he was employed as a purchasing agent for Kwal Paint Company. He was a member of the Elks Club and a volunteer for Habitat for Humanity.

He is preceded in death by his father, Ray Morgan Ruscoe Sr. in 1993.

He is survived by his mother, Ann Bishop Ruscoe of Cleveland; and a sister, Dr. Annette VanNatta of Little Elm, Texas.