Paschal High School
Class Of 1968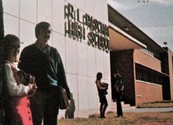 Happy Holidays to the Paschal Class of 1968


Please consider working on our 50th High School Reunion in 2017. We want to make it the best reunion ever!! If you are interested and live in or around Fort Worth, please let us know!
****Please find your name on the
classmate profile and update your information.
Remember to click "save changes" at the bottom of your page to
ensure any changes are saved!
Look over the missing classmate list - If you have an email address for any classmate that is on the missing list, please contact us. We will be contacting all members of the Class of 1968 by email only so we need everyone's email address!!