Paschal High School
Class Of 1968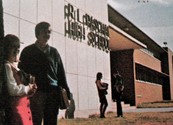 Message Forum
02/13/19 02:30 PM
#92

Grateful he is no longer suffering. Hospice nurses are angels. Sending thoughts and prayers.
02/13/19 09:08 PM
#94

God bless Mike's wife Claire and his family through this difficult time . Mike will be sorely missed by all....so many PHS memories never to be forgotten.
02/14/19 11:43 AM
#96

Yes, Mike's serivce is at University Christian Church, 2720 S. University, Fort Worth, at 1 pm on Monday, February 18.
02/14/19 11:56 AM
#97

This loss of our classmate came too soon. Hope all the thoughts and prayers help Mike's family through this time. I will forever be blessed and grateful that I got to see Mike at our 50th reunion at the Magnolia Lounge. It was also a wonderful blessing that he was able to attend that very special event. What a nice memory for us to have.

Debbie (Coker) Beck
02/15/19 09:28 AM
#98

God bless this beautiful family in there sorrow, which we share. Mike was an outstanding gentleman with sharp wit, humor and kindness and he will not be forgotton. Dance with the angels and rejoice while all those who love you mourn.
02/15/19 11:50 PM
#99

As many have already said... Mike and his family are in our prayers. As good a man as he was there can be no doubt he's in a better place.
02/19/19 06:01 PM
#100

So many stories at Mikes celebration at Tommys Grill Sunday afternoon. Too bad it was not recorded. Or maybe not. Tears of laughter filled our room. Just a perfect Celebration on Monday. Clair and family, thanks for a beautiful service to honor Mike.
02/20/19 05:12 PM
#101

Yes James it was a wonderful time sharing memories of Mike. I hope he knows that he has brought those that loved him closer the last couple of weeks! Thanks for being such a good friend to him.
04/22/19 10:44 AM
#102

Panthers: my son, C.B. Team is running for a seat on the Tarrant Regional Water District Board. He's just been endorsed by the Star-Telegram, so we're very excited. Early voting starts April 22nd and Election Day is Saturday, May 4th. Please get out and vote in this very important municipal election!
05/07/19 04:23 PM
#103

Hi All - Most of the activities that were free to us as high school students now require a fee for participation - sometimes as high as $500 per activity. Things we took for granted like band, PSOP, choir, etc, are now only available to students who can pay for them. My sister (Paschal Class of 1966) sent me a notice from Joe Greenslade about a great way to give current Panthers access to some of the experiences we enjoyed through the newly created Paschal Enrichment Foundation. I told Joe that I'd share the word with the Class of 1968. Check it out at:

paschalenrichmentfoundation.org

click on "Be a Panther Hero"

Thanks! ​
12/31/19 09:27 AM
#104

Wishing everyone a Happy New Year.

Does anyone know the whereabouts of Clifton Kagawa?

Craig Jones
01/01/20 12:53 PM
#105

Sorry, Craig,

That was Hilton Queton.

memory!

BS
05/20/20 12:38 PM
#106

If you have not read Mike Nichols' Sunday column in the S-T (May 17, 2020), you should check it out. It's a walk down Memory Lane to way back in the Good Ol' Days. It's about Tom Huff, who taught English at PHS from 1963-1967, He quit after the 1967 school year to pursue a full-time writing career. Our Mr. Huff went on to become the most successful writer ever to come out of Fort Worth bar none. He placed multiple novels on the NY Times best-seller lists in the following decade under a variety of pseudonyms. I never had Mr. Huff myself, so I don't know if I would have liked him as a teacher or not. I had Mrs. Blakewell and Mrs. Winfrey for 3 years of English and didn't learn a thing from them. (All I know about English I learned from Mrs. Melton at McLean Jr. High.) But my older sister had Mr. Huff and said he was one of the best teachers she ever had. He was busy writing his first novel that last year at Paschal. I wonder if he ever discussed it with his classes?

Mr. Huff's replacement was Paula Eyrich (now Paula Tyler) who went on to carve out her own legend at Paschal. I used to hang out in Paula's classroom in one of the "shacks" at lunchtime b/c a lot of cute girls (sophmores and juniors) congregated there. It sure wasn't for English instruction! I have the feeling I might have loved Mr. Huff as much as I did Dean Cozine. PHS sure had some FINE teachers, didn't it? And they looked and dressed and acted like teachers, not like overgrown students. They actually had standards.

One final thing about Mr. Huff. The whispers were that he was "gay" although that wasn't the word we used in those days. High school kids can be so cruel and thoughtless. We made fun of anyone and anything that was different. In Mr. Huff's case, his sexual orientation could help explain how he was so perfect at writing historic and gothic romances ("bodice-rippers") that attracted a HUGE female following. (He always wrote under female nom de plumes.)

We should honor Mr. Huff along with Dean Cozine and Miriam Todd and the other outstanding teachers who made Paschal what it was and helped make us what we became. God bless 'em all.
05/21/20 10:14 AM
#107

Rick:

Thanks for posting this info.

I never had Mr. Huff as a teacher, and have never read a romance novel, so I was unfamilar with him or his work. He was indeed very successful. For my personal taste, the recently deceased Dan Jenkins is the best author ever to come from Good Ole Paschal High. Semi Tough, Dead Solid Perfect, Baja Oklahoma, and Life Its Ownself are hilarious classics and full of Ft. Worth references including, of course, R L Paschal High School.

John Henderson
05/21/20 04:44 PM
#108

John Henderson -- Dan Jenkins was great. Reread Semi-Tough not long ago and it captures the crazy sixties-early seventies quite well. While I hold Jenkins in high esteem, Patricia Highsmith is probably the best writer born in Fort Worth, although she didn't live there long. She wrote Strangers on a Train and The Talented Mr. Ripley (and others in that series). Tom Huff -- like you, haven't read many romance novels and none of Tom Huff's, but quite an impressive book list. You can still get some of his books at Amazon.com.
05/25/20 09:46 AM
#109

I have had many occasions to reflect on or of the in-memory comments or an obituary of one of our classmates and thought about how their life was interesting and how it provided a legacy for our class. It made me wish in some way that I had known the classmate better. As time goes forward, we will obviously experience more reflections. Today I now have an in-memory comment regarding my friend Reggie Crick.

I was notified of the passing of Reggie the other night, I am saddened by the loss of my friend and have been processing through streams of memories of your friendship and interactions.

"the comfort of having a friend may be taken away, but not that of having had him"

Seneca

Reggie was always uplifting when we were together. He could make you smile, laugh, tease, and enjoy the moment. When in Austin we had a group of classmates that ran together which provided numerous tales now memories. Being in Austin at that time was quite an experience with social change, music, and constant activities. I have many memories of Reggie and our group. He was the ultimate game guy, especially poker, often making large sums of money playing at different fraternity houses. Reggie' s presence provided all of us a stimulus to enjoy the moment and have a smile.

" To live in hearts we leave behind is not to die"

Thomas Campbell

So thank you my friend for your companionship, friendship, and memories. I will always have a smile when I think of you and will recall how you would lift me from a sad or negative feeling to happy moments. That to me is a wonderful legacy for our class.
12/31/20 09:47 AM
#111

Wishing everyone a Much Better 2021.

Does anyone know the whereabouts of Dianne Loomis.

Happy New Year

Craig Jones
01/01/21 10:15 AM
#112

Fellow Gray Panthers:

I'm with Craig on this one: 2021 has got to be a better year than 2020. The darned pandemic besides killing off hundreds of thousands got in the way of our BIG 70th Birthday Party. I hope everyone is staying healthy AND FIT so when we do finally get together (2021?) we'll all be there. These reunions, big and small, have become very important to this old guy. Who'd have thought 50+ years ago that I'd ever want to see any of you guys again? My closest friends from time are gone -- either passed or lost connection. You're my new best Panther friends. See you down the road. (We did change the world, you know -- mostly for the better!)
01/01/21 08:41 PM
#113

Wishing everyone of our classmates and alumni a Happy and Healthy New Year! Praying it will be much better than 2020 and few would argue with that! Hope to see everyone at the Birthday Celebration in April!
Hope
05/31/21 10:38 AM
#115

To our classmates who served our country!
Continued prayers to the families of our classmates,
who never made it home.

Craig Jones