Paschal High School
Class Of 1968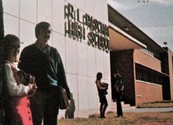 Message Forum
06/24/18 06:43 PM
#34

Our 50th Reunion was an overwhelming success! Thank you to everyone who put all of this together for all of your hard work! You did an amazing job! Amazing is not a strong enough word.

What a kind, fun, and good-looking group we turned out to be! Everyone was having so much fun Friday and Saturday nights! So much laughter both nights! This weekend gave us even more wonderful memories together. It was great to reconnect with friends we haven't seen in years and will stay reconnected with now. Such a wonderful time!!!!

Ready to go again for a 55th reunion or sooner? I'm ready to volunteer to help. ;)
06/24/18 09:43 PM
#35

Am having post-reunion letdown. Wow, I had a blast and Susie did, too. Thank you!
06/25/18 06:28 PM
#36

Thanks to ALL who worked so very hard to make the 50th Reunion such a success. I had a marvelous time reaquainting myself with so many of my fellow classmates. It has been quite some time since I last traveled to Fort Worth, and I was very impressed with the upscale design and architecture which the entire city (at least the parts I traveled) now seems to embrace. To all who attended "THE EVENT", best of luck and good health to you and your families, for now and far into the future. Have a good life!
06/26/18 04:32 PM
#37

Thanks to all who came by the front table where I foolishly parked myself too long to finish gluing and signing silhouette portraits. Am I already in pergatory? If so somebody please let me know so I can finally let the f----k go of all this sh---t I keep carrying around and hang out with the people I have loved dearly all my life.
06/26/18 05:40 PM
#38

What a great venue for our 50th. Class Reunin. Cindy and I had a great time, yes even Cindy, the Arlington Heights girl. It was great seeing old faces that I knew when they were young faces. Our bodies have aged but we are still the Class of 68. Everyone take care and be safe and we will all do this again.
06/27/18 01:28 AM
#39
06/27/18 01:38 PM
#40

Damn that was fun!!! So good to see all of you! Super special thanks to Debbie and the committee for such a fabulous job. It was all just great and special!
06/27/18 06:27 PM
#41

Carl, you didn't get the whole bunch -- here's the picture that includes YOU! Great to see you! -- Cindy and Bill

Left to right: Carl Weisser, Steve Loftin, Don Payte, Ben Herring ('67), Bill Anderson, Tom Rall, Charlie Davis, Van Green, Ricky Wright -- next day at the Rall Ranch. Lots of fun! Unfortunately, this shot broke the camera so we didn't get to photograph the women ... :)
06/27/18 06:31 PM
#42

There were SO MANY people there that I never got to visit with -- Bill and I sat up for hours talking about everyone, and he saw several of you that I did not. But it was great to see you JAN TURNER, who moved to California before graduation, but flew back for our reunion!

Bill Anderson, Cindy (Gray) Anderson, and Jan Turner
06/28/18 12:26 AM
#43

Did anybody take a picture of Cindy McReynolds?
06/28/18 12:33 AM
#44

Still think my censored title for the guys at Tom Rall's is best:

"A Motley Crew of Sorry Asses" - as in a diverse and poorly organized group, such as a band of pirates.

I might add: that I am proud to call my friends.
06/28/18 10:13 AM
#46

Someone asked for a picture of Cindy McReynolds - she was absolutely fabulous at the party!!! See for yourself!! Sorry, could not find the option to rotate the picture.
06/28/18 12:22 PM
#47

Debbie, you are so clever! I'm adding to your quip: Those were the Daze; These are the Days! Everyone, join in the next reunion committee. It adds so much to the fun.
06/28/18 12:36 PM
#48

Thanks again to all the volunteers who created the memory-themed tables and to those who came early to install the decorations!!!

And a special shout out to Pattie Boyd and Claudia Kay who did 4 of the 14 tables! And Everett Young for being the most consciencious judge ever. And Nicki Thompson who slaved over the videos and memorials to make them the best they could be... and she's not through yet! Here comes the book!

And to Ralph Dean who spent so many hot days in his workshop cutting and painting trophies and cardholders, pouring concrete into tree stands, mashing chicken wire and pea gravel into containers, spraying everything purple and then spraying it again, and making a floorplan of the club to plan where to squish everything.... So much more. My hero.
06/28/18 07:08 PM
#49

I had a fabulous time. Thank you to all the committees. My previous job, I was responsible for multiple events for 500-1000 so I appreciate the 18 months of planning and hours of decorating. Your selection of the meal was so delicious. Nicki the Memorial was perfect. It was so hard to watch but was a beautiful tribute. Wish KALA had made a group picture. I will try and post the few pictures my sweet husband took. Jan Turner, Karen Dawson and Mary Sue Hamilton we should have stepped out to talk and visit! I wish I had taken time to visit all the tables to see who came. The ladies were a little easier to recognize than the men because I knew more of them. Pledging in KALA made this shy girl introduce herself and meet many of our classmates. I was blessed to know so many. May God bless you all with good health and safety. See you in 5 years. Love to all.
06/29/18 09:04 AM
#50
06/30/18 10:33 AM
#51

How anyone seen

Robert Brueggermeyer

Jan Horton

Dianne Loomis

Ted Reynolds

Great reunion.

Great to see everyone.
07/01/18 02:32 PM
#52

Ted Reynolds lives in Cleburne . Owns a paving company.
07/03/18 12:20 PM
#53

Victoria (Vickie) Thompson (Wiman)

Thank you to everyone for making the 50th Class Reunion so memorable. My sincere appreciation to Debbie Turner and the committee for all of the many hours required to organize and facilitate such a wonderful event. It was great seeing so many friends. I hope to have the opportunity to get together much more often in the future.
07/04/18 11:54 AM
#54

Great seeing you too! Move home and see us all more often.
07/04/18 03:44 PM
#55

The Renion wasn't just about reconnecting to people we hadn't seen in 50 years; it was about getting to know people we never knew, or even spoke to, 50 years ago. Nikki Thompson, Becky Whitten, Everett Young, Van Green, Martha Ankele, Ralph Dean, even Debbie MT herself; I never had reason to speak to y'all back then. You had your circles, and I had mine (much smaller). You were just 7 among 970+ people in our class. Now you're classmates and old friends -- and it hurts to use that word "old" even in this context. This is why I think it would be nice to get together occasionally going forward. Let's not let all the camaraderie generated in these last 9 months dissipate until another 50 years (?!) goes by. After all, how many "friends" can you say you've known for 50 years? Go, Panthers!
07/05/18 12:05 PM
#56

Well said, Rick. Most of the people I reconnected with were from Jr. High school and not so much from Paschal. I would love to connect with all the grads. Some of my friendships go back to Elem. school. It would great to sit and visit with all these people. Hopefully we can make that happen.
07/05/18 12:15 PM
#57

I agree, Rick. Well said! Thanks to all who put in such monumental effort and all of the rest of us who enjoyed the fruit of your labors!
08/07/18 01:35 PM
#58

Does anyone know where George MacMillan is?

He was one of the nicest guys, I have ever met.

Craig Jones