Paschal High School
Class Of 1968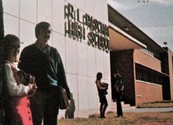 In Memory
Stephen Boyd
From Neta Lasater Martinez:
Steve Boyd passed away Saturday, Sept. 1st. I'm not aware of an obit in the paper but I've gotten details from his Facebook page - sadly and pointlessly, he was killed by a drunk driver. Steve a devoted family man & was such a kind, outgoing & extremely knowledgeable person with a million interests. A mentor to everyone. He was a professional & private nurse, very well versed in herpetology and also an expert in falcons & hawks. I had the privilege of knowing Steve from my neighborhood - he lived around the corner when we were teens - from school and also from us working together at the Fort Worth Zoo, where he got is early start in herpetology:) We had kept up a bit with each other the past few years and he would let me know all about his family & his adventures - like the nursing stint he did in Barrow, Alaska! Top of the world! He lived a very full life, just as it should be! Very proud and lucky to have had Steve as a friend.
The family has stated there will be a memorial at a later date.
Stephen Harold "Steve" Boyd, 68, registered nurse, master falconer, and outdoorsman, died on Sept. 1, 2018, from injuries caused by a drunk driver having crashed into his car.
A celebration of life will be held at 2 p.m. Saturday, Oct. 6, at Inn on the River, 205 Southwest Barnard Street in Glen Rose, Texas. A reception will follow at the Inn.
In lieu of flowers, memorials may be made to the North American Falconers Association, Rainwater Neurological Research Fund (northtexascf.org), SnakeDays.com or Texas Hawking Association.
Steve was born Jan. 9, 1950, to U.S. Air Force Master Sergeant Daniel G. and Helen (Mason) Boyd in Mt. Clemens, Michigan. The family was stationed in France and Germany, and at bases in the U.S. before moving to Fort Worth, Texas, in 1966.
Steve enjoyed a rewarding, 41-year career in nursing, and made many lifelong friends. He had clinical experience in emergency room, medical-surgery, post-anesthesia care, intensive care, and pediatric and hospice nursing, as well as nurse administration.
Steve started his career in 1977 as a staff nurse in post-anesthesia and intensive care units in hospitals in Fort Worth, which prepared him to serve as director of nursing at Big Bend Memorial Hospital in Alpine (1979‒1984), Texas, Pecos County Memorial Hospital, Fort Stockton (1984‒1991) and hospitals in Borger, Dumas and Glen Rose. He also served as post-anesthesia care unit and charge nurse at Cook Children's Medical Center in Fort Worth. Afterwards, he was a travel nurse caring for Inupiat Eskimos in the emergency room of the hospital in Barrow, Alaska, one of the most remote regions of the world. He earned membership in the Barrow Polar Bear Club.
Later, in Fort Worth, he was honored to be chosen to care for a patient with a progressive neuromuscular disease for five years in a home-care environment until the patient's passing. Recently, he was a nurse with Mission Hospice. At the time of his death, he was a post-anesthesia care unit nurse at Baylor Surgicare at Granbury.
A graduate of Paschal High School in Fort Worth, he earned an associate degree in nursing from Tarrant County Junior College School of Nursing. He graduated summa cum laude from Texas Tech University Health Science Center with a Bachelor of Science in Nursing.
His fascination with falcons began at age 12, when he got his first kestrel, North America's smallest falcon. In 1984, he became a master falconer. He was a member of the Texas Hawking Association, for which he served as North Director (1995‒1999), and of the North American Falconers Association. He rehabilitated owls and falcons, and collected snakes, lizards, turtles, and birds from Canada to Mexico. He enjoyed fishing and hunting with gun and bow.
Steve's photographic memory enabled him to gain expertise in all of his endeavors. He was known as a mentor to many and for helping friends and family, including giving one of his kidneys to his half-brother. He kept up with everyone on Facebook.
Steve was preceded in death by his parents and his brothers, Scott and Christopher Boyd. He is survived by his beloved wife of 47 years, Jan Lawrence Boyd; son, Christopher Ian Boyd (Glenda); daughter, Lisa Fleur Ploof (William); nine grandchildren, and five great-grandchildren, all of Glen Rose.