Paschal High School
Class Of 1968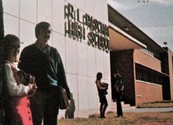 In Memory
Stephen Rawson
Stephen passed away October 16, 2016 from stage 4 cancer. He served in the Marines. Survived by his wife Barbara Morris Rawson, grandchildren and 2 great grandchildren. Submitted by Mark Pross
Birth:
May 29, 1950
Lubbock
Lubbock County
Texas, USA
Death:
Oct. 19, 2016
Bonham
Fannin County
Texas, USA

Stephen Garrett Rawson
(May 29, 1950 - October 19, 2016)

Bonham- Stephen Garrett Rawson, age 66 of Bonham, TX passed away on Wednesday, October 19, 2016 at the Sam Rayburn Memorial Veterans Nursing Center. Funeral arrangements are under the direction of Cooper-Sorrells Funeral Home Bonham, TX. At the request of Mr. Rawson and his family there will not be any funeral services.

Stephen Garrett Rawson was born in Lubbock, TX on May 29, 1950 to Garrett Prestridge and Juanita June (Pierce) Rawson. He served honorable in the United States Marine Corp. from 1969 to 1971 and he served honorable in the Navy from 1975-1981.

Stephen is survived by sons, Stephen Rawson, Michael Rawson, and James Rawson; daughters, Rhonda Rawson, and Rachel Rawson; and brother, Kenneth Rawson.