Paschal High School
Class Of 1968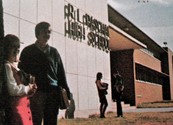 In Memory
Stephen Browning VIEW PROFILE
Stephen Wayne Browning
Stephen Wayne Browning was born on October 30, 1949 in Fort Worth, Texas, to Claude E. Browning and Mary Frances Stephens Browning, and died from complications due to COVID-19 on December 30, 2020 in Houston, Texas. Stephen was preceded in death by his parents, Claude and Mary Frances Browning; his grandparents, Thomas A. Stephens and Dixie Lee Stephens, and Wayne Browning and Lucinda Browning; his uncles Fred Stephens and his wife Jane Stephens, Mark Stephens, and his nephew Clay Shear. He leaves behind his sisters, Judy Baker Stone and her husband Jack Stone, their son Todd Stone and his wife Dana, their daughter Sara Arnold and her husband Earl Arnold; sister Patricia Ann Baker and her children Mark Shear and his wife Kristen Shear, David L. Huddleston and his wife Sandra, and Amy L. Huddleston; his aunt Betty Stephens Moore, and nearly 20 nieces and nephews; his cousins Michael Moore and his wife Monica and children, and Rick Moore and children; Susan Stephens Geyer and her husband Mark and their children, Katherine Stephens Smethie and her husband Steven Smethie and their children; Tom Stephens and his wife Kathleen and children.
Stephen was a longtime resident of Fort Worth and graduated from R. L. Paschal High School and received his associate's degree from North Texas State University. Stephen worked for the Fort Worth Public Library system for twenty years before retiring. He was a member of St. Andrew Catholic Church in Fort Worth. He was an accomplished pianist and loved music, particularly classical music and opera, and attended symphonies and musicals with his mother over the years. He liked to eat out and he loved his little dogs. He particularly enjoyed two trips to lsrael with his sister Judy. Stephen did not have an easy life, but remained a pleasant gentleman and a loyal son. He will be missed, but is now free of his physical pain and challenges, and he was confident that he would soon be with His Lord.
Those wishing to make memorial gifts may do so to the charity of your choice.
Click here to see Stephen's last Profile entry.