Paschal High School
Class Of 1968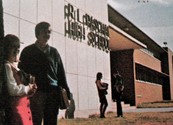 In Memory
Duane Davis
Duane Davis died suddenly of a cardiac arrest on September 4, 2010. He is survived by his wife of 35 years, Donna Davis; his daughters Audrey Davis and Lauren Cozart; son-in-law Sean Cozart; grandsons Kaleb and Konner; brother Dan Davis, MD; sister-in-law Ann Davis; sister Diana Davis, Ph.D; brother-in-law Bill Janss, MD. (Information received 9-22-2010)
Birth:
Apr. 27, 1950
Tarrant County
Texas, USA
Death:
Sep. 4, 2010
Jasper
Pickens County
Georgia, USA

Duane A. Davis

Pickens County Progress - Jasper, GA

Duane Davis
Mr. Duane A. Davis, age 60 of Big Canoe, passed Saturday afternoon, Sept. 4, 2010 at Piedmont Mountainside Hospital in Jasper.

Survivors include his wife, Donna Davis, Big Canoe; daughters and son-in-law, Audrey Davis, New York, N.Y., and Lauren and Sean Cozart, Clarksville, Tn.; brother and sister-in-law, Dr. Dan C. and Ann Davis, Honolulu, Hawaii; sister and brother-in-law, Dr. Diana Davis and Dr. Bill Jannus, El Paso Tx.; and grandchildren Kaleb Davis and Konner Cozart.

A memorial service will be held Friday, Sept. 10 at 4 p.m. from the Big Canoe Chapel with Dr. Jim McCormick officiating. The family will accept house-type floral arrangements, but ask that memorials be made to a charity of your choice in memory of Mr. Davis.