Paschal High School
Class Of 1968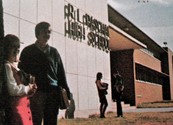 In Memory
Lloyd Draper

Obituary for Lloyd Ray Draper
Lloyd Ray Draper, of Richardson, Texas, passed away on March 18, 2021, at the age of 70. Lloyd was born on February 10, 1951, in Fort Worth, Texas. He graduated from RL Paschal High School in 1968. He went on to attend Texas Christian University where he was a member of the Kappa Sigma Fraternity and was an offensive lineman for the Horned Frogs. Lloyd graduated in 1972, with a Bachelor of Business Administration degree and became a proud member of the TCU Lettermen's Association. He met Mary
(Johnson) Draper while he was at TCU and the two married in 1973. Lloyd and Mary moved to Dallas where he started his career in Land Title Insurance. Lloyd served as the President of the Texas Land Title
Association in 1990-1991 and was TLTA's "Title Man of the Year" in 1993.

Lloyd is survived by his wife of 48 years, Mary Johnson Draper. He is also survived by his sons, Stephen and Scott Draper, Stephen's wife Ann, and their three children, William, Quinn, and Benjamin. He is also survived by his brother, Mike Draper.

Lloyd, or "Lloydo" as his friends and family knew him, had an avid love for TCU Football. Lloydo never missed a game or a tailgate, and some of his happiest memories were competing on the grind iron and watching from the stands with the purple faithful.

During his Title career, Lloydo was well known for his larger than life personality and the passion he brought to the industry for more than 40 years. The life-long friendships he made were some of his most cherished.

Lloydo led a happy life, filled with family and friends. He was the life of the party and never missed an opportunity to hit the dance floor. He was a loving husband, father, and grandfather, and he will be forever missed.

A Celebration of Lloydo's life will be held on Friday, March 26, 2021, from 3:30-6:00PM at 1118 Pueblo, Richardson, Texas. Memorial gifts may be made in Lloyd's name to the TCU Frog Club at www.tcufrogclub.com/giving or c/o TCU Frog Club, TCU Box 297140, Fort Worth, TX, 76129.