Paschal High School
Class Of 1968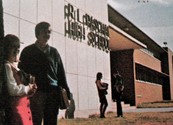 In Memory
Charles Duncan
Charles died on October 30, 2011. (information received from his wife, Shelley in February 2013)
Charles A. Duncan (1950 - 2011)

Charles A. Duncan, 61, went home to be with his Lord on Sunday, Oct. 30, 2011. Service: 10 a.m. Thursday in Laurel Land Memorial Chapel. Interment: 12:45 p.m. Thursday in Dallas-Fort Worth National Cemetery. Visitation: 6 to 8 p.m. Wednesday at Laurel Land Funeral Home.

Charles was born Feb. 15, 1950, in Tullahoma, Tenn., to Boyd and Honoria Mae Duncan. He was a good Christian man, as well as a loving husband who enjoyed pampering his wife, cats and watching television. He was a veteran of the U.S. Navy and served as an electrical engineer aboard the USS Nimitz. Charles was preceded in death by his parents; first wife; only daughter; and a beloved cat, Sam.

Survivors: Loving wife of 4 1/2 years, Shelley Duncan; and beloved cat, Mimi.