Paschal High School
Class Of 1968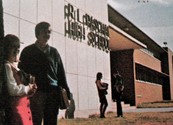 In Memory
Chris Etter
Christopher Barnes Etter, 58, died Tuesday, Dec. 25, 2007.
Service: 12:30 p.m. Saturday, Jan. 5, in Laurel Land Memorial Chapel of Fort Worth. Visitation: 6 to 8 p.m. Friday at Laurel Land Funeral Home.
Chris was born July 1, 1949, to Joel and Mary Barnes Etter in Weatherford. He was a member of the Texas Boys Choir and had a special ear for music. Chris was a lifelong resident of Fort Worth and graduate of Paschal High School, where he lettered in swimming. He retired from the Fort Worth ISD, where he spent his career in HVAC.
Chris was a warm and loving "people" person. He had a wonderful sense of humor and entertained all with his anecdotes, both real and imagined. He was very proud of his sons, Lee and Scott.
Survivors: Wife of 28 years, Cyndy; sons, Lee and Scott; parents, Joel and Mary Barnes Etter; and brothers, Drew and Steve Etter and their families.