Paschal High School
Class Of 1968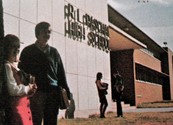 In Memory
Kathy Hay
Obit from Star - Telegram Friday, 11-19-1971
Mary Kathryn Hay, 21, a TCU senior, and near-lifetime resident of Fort Worth, died Thursday in a hospital.
She was the daughter of Dr. and Mrs. Wallace S. Hay of 3800 Glenmont Dr. and was a native of Houston.
Also surviving are a brother, Doug Hay, of Fort Worth, and grandparents, Mr. and Mrs. W. T. Smith of Houston, and Mr. and Mrs. A. F. Hay of Dennis Port, Mass.
Miss Hay was a member of South Hills Christian Church, Delta Gamma, Alpha Lambda Delta honorary society, and Phi Alpha Theta.
Funeral services will be at 10 am Saturday at University Christian Church, with burial in Greenwood.