Paschal High School
Class Of 1968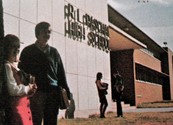 In Memory
Faye Levine (Sight)
Faye Levine Sight, 70, of Leawood, Kansas, died Saturday, October 10 2020. A private funeral service will be held at 10:00 a.m. Sunday, October 11 at Rose Hill Cemetery. Kindly omit flowers; the family suggests that contributions go to The Temple, Congregation B'nai Jehudah Pre-School Fund, 12320 Nall Avenue, Overland Park, KS 66209 913-663-4050 (to be directed to the pre-school/early years Programs)

She was born July 14, 1950 to the late Irving and Beatrice Levine, in Boston, Mass. She grew up in Fort Worth, Texas and was always a Texas girl at heart

Faye was a preschool teacher at The Temple, Congregation B'nai Jehudah, lovingly known as, Mrs. Faye, until she retired. She was passionate about making a difference in the lives of her students, and even continued her passion to teach by helping illiterate adults develop the skills to read, in her later years.

She was an active member of The Temple, Congregation B'nai Jehudah. She was an avid reader, movie goer, and TV show enthusiast. Faye also had a deep passion for animals, especially dogs. Most importantly, her selflessness with her love and passion for her family and friends was her greatest attribute. Faye was preceded in death by her parents.

She is survived by son: Brian Sight, Son and daughter-in-law: Zachary Sight and Ashley Sight, all of Kansas City; daughter and son-in-law: Sarah Compel and Sean Compel, Coconut Grove, FL and five grandchildren.