Paschal High School
Class Of 1968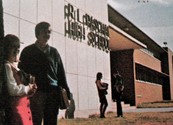 In Memory
David Sears
David Wayne Sears, 71, passed away on Sunday, May 15, 2022 due to complications after having quadruple heart bypass surgery.
He was born July 30, 1950 to Norman David and Maxine Viola Sears in Sedgwick, Kansas. He was an Amazing man, a hero , a wonderful Dad, the greatest husband, a devoted grandfather, the most caring son-in-law, and and a good friend to many people. David was the perfect role model. He joined the Fort Worth Police Department June 1, 1974, where he worked until he retired February 1, 2009. In August of 1982 he met the love of his life Pam Sears and they married on September 20, 1984, in Fort Worth, Texas.
David was preceded in death by his father, mother, stepmother(Donna Sears); brother, Kenny Sears; and precious grandson, (Dylan Sears).
He is survived by his wife of 37 years Pam Sears; daughter, Laura Sears; son, David Sears Jr. and wife, Amy, Dewayne Sears, Brad Womack, and wife, Carey; grandchildren, Kenley Reusch and wife, Amber, Megan Sears and husband, Dylan Cummings, Braiden Womack and Landon Womack; nieces, Casey Mitchell and husband, Ryan, Michelle Pearce and husband, Harold; nephews, Stephen Sears and wife, Lacy, Clayton Sears and wife, Alli.
In lieu of flowers donations can be made to One Safe Place, https://onesafeplace.salsalabs.org/inmemorydavidsears