Paschal High School
Class Of 1968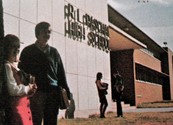 In Memory
Scott Self VIEW PROFILE
Scott Lawrence Self
May 9, 1950 – June 30, 2020
Eight Bells
Scott Self was born to Dr. Stanley Allen and Gloria Rust Self in Victoria, Texas. In 1963 the family moved to Fort Worth, Texas where he graduated from Paschal High School in 1968. During those years in Fort Worth, Scott learned to sail a Sunfish sailboat and worked on the family's cattle ranch near Saginaw, Texas.
Scott graduated from Texas Christian University in 1972 with an honors degree in Economics, where he was a member of the Delta Tau Delta fraternity. TCU is also where he met his wife, Jan, whom he married on June 9, 1973 in her parents' backyard—-a 50' magnolia tree as their altar. Their honeymoon was spent sailing and racing Dick Williamson's Swan 44 Stuart Little from Cowes on the Isle of Wight, England, then home to the states via La Rochelle, Lisbon, Gibraltar, Morocco, Canary Islands and the Bahamas.
Upon their return, Scott worked for Merrill Lynch as a stock broker in Dallas. Four years later in 1977, he bought a company that produced Micro Brush, renamed it ProSoap, and moved the company to Rockwall. He and Jan moved to Chandlers Landing and Scott was able to pursue his love of sailboat racing on Lake Ray Hubbard—-the best sailing lake in Texas due to its shape and orientation to the prevailing southerly breezes.
He and Jan were immediately active in the community. Scott founded Dallas Race Week, a regatta now in its 38th year. In 1985, Scott was the founding Chairman of Rockwall United Way. In 1986, he chaired the Rockwall YMCA Board and in 1987, he served as Commodore for Chandlers Landing Yacht Club. In 1988, he was chairman of the Rockwall Noon Rotary Board. And in 1989 he was Chairman of the Rockwall Area Chamber of Commerce Board. He loved to serve the community.
In 1990, Scott began his political career and was elected to his first office in Rockwall as County Treasurer in which he served seven years. In 1999, he was elected to Rockwall City Council, and in 2000, he was elected Mayor of Rockwall. From 2003 until 2006, he served as Rockwall County Commissioner. His proudest accomplishments in these roles were doubling the size of Harry Myers Park and increasing the biking trails, starting the process of Hometown 2000, and keeping taxes in Rockwall the lowest in the Metroplex.
Scott never stopped serving his community. In 2001 at age 51, Scott began a five-year career as a volunteer firefighter for the Rockwall Fire Department, and served as the President of the Rockwall Firefighters Association in 2005. He spent eight years as a Board Member of Rockwall County Helping Hands and recently served on the board of Women In Need, as well as serving in numerous other volunteer organizations.
Scott's sailing career was illustrious. Scott crewed on the winning boat in the 1973 North American Men's Sailing Championship, known as the Mallory Cup. That same year, he competed in the 420 World Championships held off the coast of Israel during the Israeli 1973 Yom Kippur war with Egypt. A story Scott liked to tell was that his crew had become ill and Scott was facing dropping out so the Israeli sailing committee kindly offered a substitute crew. The substitute showed up and Scott asked what he did for a living. The sub responded, "I'm a fighter pilot. They told me if I could get here in time, I could sail with you, so I put on the afterburners and here I am!" Scott and his new crew placed ninth out of 75 of the best world-class teams.
Further admirable finishes in his sailboat racing career include racing the aforementioned Stuart Little in the Fastnet Race of Great Britain, placing sixth in the 1994 J-22 World Championships in Holland, and again in 1996, as well as placing second in the J-22 United States Championship in 2004.
In 2005, Scott and his longtime sailing partner Nigel Brown won the double-handed division of the Transpac race from Los Angeles to Hawaii aboard their Hobie 33, Soap Opera. Later that same year, he and Nigel were the Overall Winners of the Harvest Moon Regatta, which they came back to win overall again in 2006 and in 2012. These are the highlights but in brief, Scott placed in the top 10 in every major class of National Championships from Sunfish to 60 footers.
In addition to his racing career, he also sailed open oceans. At age 17, he single-handedly sailed a small boat named Sprinter from Galveston to Corpus Christi, without any sea charts. He sailed across the Atlantic Ocean twice, once heading east, and again heading west. And in 2007, Scott became a United States Coast Guard 100 Ton Masters Captain. He captained three sailing yachts through the Panama Canal: Erik Oisted's Angantyr, Bobby Pryor's Poetry and most recently a 70 foot catamaran, Chamonix, in February 2020.
Scott has introduced thousands of people to the love of sailing aboard Seawolf, a 25' x 40' catamaran he custom built himself inside his company's warehouse. Over the past 12 seasons, Scott has taken over 30,000 people sailing and performed over 700 weddings. He built "Sail With Scott" to be a unique attraction for the DFW metroplex.
Scott was also physically very active throughout his life.. He ran 10 marathons, including the prestigious NYC Marathon in 1990, the original Athens, Greece Marathon, as well as four Dallas Marathons. He was also an avid cyclist with his wife Jan and rode the AIDS 3-Day Ride from Houston to Dallas three times. He completed the HHH Century (100 miles) bike ride in Wichita Falls three times, twice with Jan on a tandem bike. In 2018, Scott, Jan and Chandler hiked and summited Mount Kilimanjaro together.
For most workdays of the past 16 years, Scott looked forward to having lunch with one of his best friends, consultant and confidant: his son, Billy.
Scott is survived by his wife Jan of 47 years, his children Billy and Chandler, his daughter in law Katie, his granddaughters Elliott, Julia, Alexandra and Isla, and his soon to be son-in-law, Matthew Tinley. He is also survived by his older brother Fred, his wife Suellen and their children, and sister Becky Doody, her husband Jack and their children.
In lieu of flowers, donations may be made in Scott's honor to Women in Need (wintexas.org).
Click here to see Scott's last Profile entry.