Paschal High School
Class Of 1968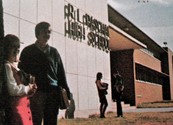 In Memory
Sally Thompson (Collins)
Sally Jane Thompson Collins
1950 - 2010 | Obituary
Sally Jane Thompson Collins died peacefully Wednesday morning, April 14, 2010, in her 59th year.
Service: 11 a.m. Saturday in the sanctuary of University Christian Church, 2720 S. University Drive. Interment: Sally will be laid to rest privately in Dallas-Fort Worth National Cemetery. Visitation: Family and friends will be received in the church's "Gallery" area after the service.
Memorials: In lieu of flowers, consideration of contributions to the Multiple Sclerosis Foundation or the Humane Society of North Texas, honoring her memory, is suggested.
A life resident of Fort Worth, Sally was born July 24, 1950, the daughter of Hal and Jean Thompson. She was a 1973 BS/RN graduate from TCU's Harris School of Nursing.
Sally had 20 years of nursing experience with Harris Methodist Hospital. She served as assistant director of surgical recovery/ICU at the hospital. She also worked with Harris Home Health and Harris Hospice. The last patient she took care of was the legendary KXAS weatherman Harold Taft. His family loved her so much they asked her to sit with them at his funeral.
Her interests included all things British, music, literature and the theater. She was active in animal rights, the Fort Worth Zoo, Bass Hall and the Kimbell Museum.
Sally participated in several charitable religious and other affiliations including Tarrant County Multiple Sclerosis Associations, the American Cancer Society and the A.S.P.C.A. Also included were the Humane Society of North Texas, the World Wildlife Fund and Give2TheTroops Inc. She was a member of Trinity Episcopal Church.
Her family would like to thank the nurses, techs and aides at Harris Methodist Southwest, 4th floor, Tower Two, Covenant Hospice and Palliative Care, Dr. Bill Gulledge and staff, Dr. Curtis Evans and staff and Dr. Yamini Chennu and staff.
Survivors: In addition to her husband, Richard Lee Collins, Sally is survived by her daughter, Kate Collins Williams and her husband, Cain, and their children, Savannah Grace and Sadie Lee; and her sister, Susan Thompson Bagby and her husband, Richard, and their daughters, Elizabeth Bagby and Sarah Bagby and her husband, Ben Monreal; her constant companion and protector, Max, a German Shepherd; and a hilarious African Grey Parrot, Scoop.