Paschal High School
Class Of 1968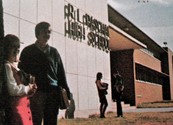 In Memory
Gary Williams
Gary passed away on Saturday, May 21, 2022 from injuries he received from a fall.
Visitation is Wednesday, May 25, 2022 5-7pm Laurel Land
Funeral is Thursday, May 26, 2022 2:00pm Laurel Land
Gary Joe Williams was born February 14, 1951 in Fort Worth, TX to JF and Verna Williams; and went on to his next adventure on May 21, 2022.
Gary graduated from Paschal High School in 1968. He attended the University of North Texas and the University of Texas in Austin and went on to become an Air Force Reservist. Gary and his father owned National Benefit Life Insurance Company for many years. Gary, then, enjoyed his position at Tarrant County Precinct One and retired in 2016.
Gary loved life. His favorite season was spring when we had beautiful flowers in the backyard. When the weather got too hot, you could always find him watching John Wayne westerns or car and truck TV shows. But, his favorites were SPORTS. Gary was an avid Dallas Cowboys football fan, Texas Ranger baseball fan, NASCAR guru, and the king of UT football. He also enjoyed playing poker with high school friends and family get-togethers for special occasions or no reason at all. Gary LIVED LIFE.
He is survived by and in loving memory, by his wife, Joyce Brown of 23 years, and his family: Jim Cooper and his wife Andrea; Brandy Cooper; Ryan Williams Raya and husband Jeremiah; Justin Williams and wife, Jacqueline; Kari Ann Pike and husband, RJ; along with his much-loved grand children: Ben Freeman, Bailey Freeman, Payton Richardson, Ryan Holstein, Zach Allen, Luke Allen, Eli Allen and great granddaughter Carter Banks Holstein, Layla Raya, Ashton Raya, Jordan Walker Pike, and Landon Pike, his devoted sister, Karen and her husband Bob Moore and nephew Jody Moore and his wife, Lauren; nieces Emily Moore, Matthew Moore great nephew, along with a host of many other family members and friends.
Gary was preceded in death by his father, JF Williams and mother, Verna Williams.
A special "thank you" to the doctors and ICU nurses at Harris Hospital downtown for all your expertise, patience, and love for Gary.
Gary we will always love you. We will miss you, but we will see you later.
And "Hook'Em Horns!"