Paschal High School
Class Of 1968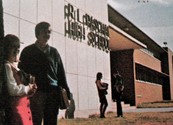 In Memory
Debbie Arleth (Kromer)
Debra Naomi "Debbie" Arleth Kromer, 62, of Cresson passed away suddenly while vacationing on a tropical beach on a beautiful Monday, Nov. 26, 2012, in Sint Maarten, Netherlands Antilles.

Service: In keeping with her doing things a little differently, in lieu of a formal funeral, a celebration of her life will be held on her birthday, Jan. 9, at the family home in Cresson. She will be interred the next day with her mother, Hettie Mae Farmer Arleth, in Laurel Land Memorial Park in Fort Worth. Memorials: In lieu of flowers, the family suggests donations be made in Debbie's name to the Humane Society of North Texas, hsnt.org.

Born at Harris Methodist Hospital in Fort Worth and a lifelong resident of the area, Debbie was the daughter of Frederick G. and Hettie Arleth. She graduated from Paschal High School and attended Tarrant County Junior College. Among her jobs was a stint with the Fort Worth Star-Telegram, where her mother was also employed. It was there she met, was romanced by and married her husband "and doctor" of 24 years, Gary Robert Kromer.

She was predeceased by both of her parents. Debbie was the sweetest, most loving person in many people's lives, and she loved her puppies.

Survivors: Husband, Gary Kromer of Cresson; son, Derek Joseph Davis and grandchildren, Hannah Leigh Davis and Liam Joseph Davis, of Dayton, Ohio; brother, Frederick "Eric" Arleth and wife, Noreen, of Plantersville and nephews, Sam Arleth and Dustin Arleth; her bestest girlfriend, Martha and husband, James Kneese, of Midlothian; her Yorkie babies, Sassy and Fred; several aunts and uncles; and many cousins.